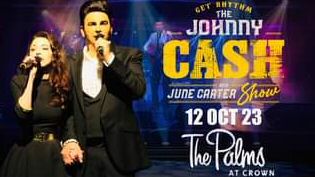 STOP PRESS!
Our show will be performing at Palms at The Crown
on Thursday 12th October 2023!!!
Get Rhythm Is the Ultimate Johnny Cash and June Carter Tribute Show.
A two part show focusing mainly on the earlier career of Johnny Cash.
Mark and Joanne have spent years creating and developing their show to be as authentic to Johnny Cash and June Carter as possible.
From their costumes, vocals to the distinctive sound that was unique to Johnny Cash.
Together with their real life family band they cover Johnny Cash's biggest hits such as "Folsom Prison Blues" "Ring Of Fire" "Walk The Line" and popular duets "Jackson" and "Long Legged Guitar Pickin Man"
And expect to be a part of the show as audience participation is a big part of The Get Rhythm Show!
Mark and Joanne love to involve their audience and they make sure that everyone is having a good time with this high-energy and fun show.
After all, it is called "Get Rhythm!"
ROCK AND ROLL SENSATION – THE ELVIS & BUDDY SHOW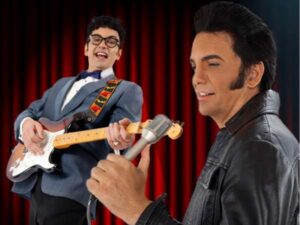 Highly acclaimed entertainer Mark Caligiuri and The Sensational Memphis Beat Showband bring to life the songs of Elvis Presley and Buddy Holly. Be treated to songs from two of the most influential Rock and Roll performers of all time – from "That'll Be There Day", "Peggy Sue", "Rave On", "That's Alright Mama", "Suspicious Minds", and "American Trilogy". A Must see show!